Model Info
Videos with Codey Steele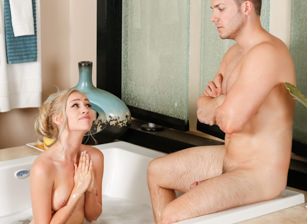 Date added:
2016-12-30
Rating:
Comments:
0
Description :
Struggling spa owner Lyra Law realizes she can't afford to pay her rent this month. When the landlord's son Codey Steele comes to collect, Lyra proposes a barter arrangement and offers Codey a massage with an extra happy ending. Codey knows he can't go back to his father empty handed, but when he hears that his dear old dad never accepts favors in exchange for rent money, he develops a soft spot for Lyra's plight. He hears she gives good massages, maybe they can work something out. They go into the NURU massage room where she inflates his cock with fellatio. The waify blonde offers him a shower, but he wants to hurry up and get down to business. Lyra's not being kinky enough in the bath, she'll have to ramp up her performance if she wants to barter the full amount of her rent. He stands up just about ready to bolt, pointing at her accusingly with his erection. She appeases him and swallows his meat. She bends over and shows him her pussy, and he takes her from behind till he's just about to cum. But she stops him, and instructs him to get on the mat. He lies down on his stomach and she slathers the NURU gel over his body and hers. She glides over him seductively, while he tries to grope her naked pussy that's making all kinds of contact with his skin. She turns him over and adds more NURU gel. She sits her juicy pussy on his hard cock and fucks him. Then she slinks her gelled up body all over him and sucks on his cock and balls. He fucks her deeply sideways till he mattes her hairy pussy with a deposit of spunk! Will that cover her rent? Click to find out!
Categories :
Oil
,
Kissing
,
FaceSitting
,
Blonde
,
Tattoo
,
Body Massage
,
Blowjob
,
Cock Pussy Rubbing
,
Jacuzzi
,
Deepthroat
,
Hardcore
,
Natural Tits
,
Cock Ass Rub
,
Body Sliding
,
Massage
,
HD Porn
,
Big Dick
,
Cum on Pussy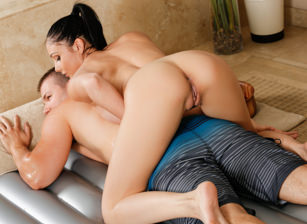 Date added:
2016-10-12
Rating:
Comments:
0
Description :
When Codey Steele promises to chaperone his little stepsister Ariana Marie to a pool party, then bails because of a sunburn, he agrees to let the desperate teen try healing it with her mother's Nuru Gel. But as soon as she's rubbing his shoulders in the bath, her bikini top tangles and her tits pop out. He knows it's wrong to stare at his stepsister's private parts, but he can't deny he likes what he sees, and it's definitely helping his sunburn. As Ariana convinces him to cum to the party with her, to watch her fuck all his friends, Codey's swim shorts tighten under his burgeoning cock, and he agrees to take them off, since Ariana's naked and fair is fair. She moves him onto the massage mat and takes his swollen cock in her mouth, before she fucks it with her pussy. Codey turns her around and pumps her slippery pussy with his cock from behind. He makes her orgasm, then loses his load, shooting cum from his cock all over her tight little ass!
Categories :
Brunette
,
Tattoo
,
Body Massage
,
Blowjob
,
Natural Tits
,
Ass
,
HD Porn
,
Member Fantasy
,
Nuru Gel
,
Family Roleplay
,
Step Sister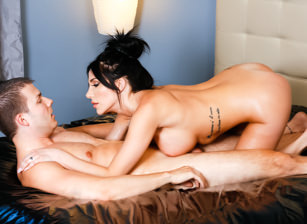 Date added:
2016-09-30
Rating:
Comments:
3
Description :
Codey Steele's been hot for Mikey's mom Jaclyn Taylor since high school, so when his buddy runs late for gym plans, Codey naturally accepts her invitation to hang out. But when she offers him a massage for that pain in his shoulder, Codey admits he would rather to see a chiropractor or osteopath. When Jaclyn insists that she is a professional masseuse, Codey confesses it would be awkward, because she's Mikey's mom. Jaclyn assures him, she massages all of Mikey's friends. Codey finally concedes, reticent but excited. He's jerked off to Jaclyn on many occasions. A massage from her sure would be nice. But Codey's not expecting a naked massage covered in stringy lube. She calls it Nuru Gel, and spreads it across his back and all over her body. She slinks on top of him working out his kinks, and his cock stiffens under her weight and wetness. She wants him to do as she says, because she's Mikey's mom. She wants his cock in her mouth. Then, slurping his cock with her magnificent lips, she tells him to fuck her pussy, or she'll tell his mom he's been a bad boy. And he's not allowed to cum until he begs. Pumping her pussy with his thick cock, he begs her to drain the cum from his balls. She fucks his cock with her MILF pussy and he cums hard!
Categories :
Oil
,
Big Tits
,
Brunette
,
Tattoo
,
MILF
,
Body Massage
,
Blowjob
,
Hardcore
,
Massage
,
HD Porn
,
Lingerie
,
Member Fantasy
,
Reality
,
Cum on Pussy

Pictures with Codey Steele

Date added:
2016-12-30
Rating:
Comments:
0

Date added:
2016-10-12
Rating:
Comments:
0

Date added:
2016-09-30
Rating:
Comments:
0