Model Info
Videos with Stephanie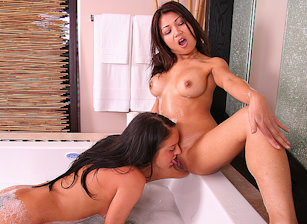 Date added:
2010-01-04
Rating:
Comments:
1
Description :
After a long day of work Jackie and Stephanie get to catch up a bit, Stephanie says that she is about to take a warm and relaxing shower as Jackie plans to head out. As Stephanie enters the shower she gets horny and starts to play with herself, Jackie hears her from the hallway and decides to surprise her and join her for a nice and relaxing girl on girl massage.
Categories :
Kissing
,
Pussy Licking
,
Brunette
,
Asian
,
Shower
,
Body Massage
,
69
,
Jacuzzi
,
Lesbians
,
Masturbation
,
Natural Tits
,
Body Sliding
,
Teen
,
Massage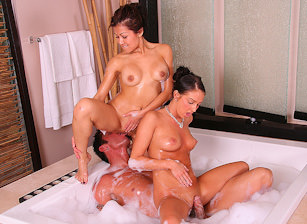 Date added:
2009-12-21
Rating:
Comments:
0
Description :
It's Cheyne's lucky day. He arrives at Nuru Massage to find both Stephanie and Jackie Lin on the clock. Oh yeah, looks like he had won the lottery. He splurges on a massage from both girls and they give him his money's worth. After a sexy soapy shower and jacuzzi they give him the best back massage he's ever had, then the best handjob he's ever had, followed by the best fuck he's ever had. Jackie Lin and Stephanie at the same time? Jackpot!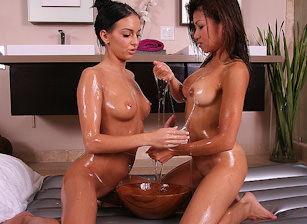 Date added:
2009-08-10
Rating:
Comments:
1
Description :
Jackie tries a new girl-girl massage with Stephanie, her co-worker. Sensual soapy caresses in the shower. Fondling, kissing, and pussy licking as only women do in the Jacuzzi. Finally, on the air mattress, Nuru gel lets Jackie use her entire body to glide effortlessly over Stephanie. Jackie licks Stephanie all the way from her pussy to where the sun doesn't shine. Tongue to Stephanie's clit, and probing twisting fingers to her pussy brings Stephanie to a loud climax. Girl-girl massages rock!
Categories :
Kissing
,
Pussy Licking
,
Brunette
,
Asian
,
Shower
,
Body Massage
,
Lesbians
,
Masturbation
,
Fingering
,
Natural Tits
,
Teen
,
Massage

Pictures with Stephanie