Model Info
Videos with Charles Dera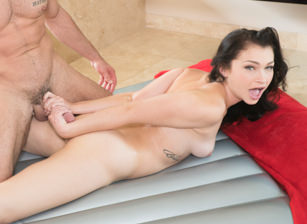 Date added:
2017-10-27
Rating:
Comments:
1
Description :
Yogi master masseur Charles Dera treats his client Jennifer Jacobs who suffers from anxiety. When the client arrives, she joins him on the yoga mats and he begins the session with 3 cleansing Oms. Following that he leads into a cleaning shower. This is their 5th session and she still doesn't know if she should undress in private. He explains again, there is no need to hide under the cover of clothing, because in this sacred space of non-judgement, they are one.

The shower experience is unifying and sensual. Once they are fully cleansed, they return to the mat for the massage. Ready to open her chakras, he describes the spiritual properties of the NURU oil and anoints her body. He begins to massage her feet and her shins, vigorously rubbing out the tension. He caresses the back of her thighs all the way up to her bare buttocks, opening her up. He cautions her to pay heed to her body's tensions, explaining that overly contracted muscles are liable to go into spasm, resulting in knots or lumps, which is what he is massaging out.

She's admits to having trouble controlling her negative thoughts. She is afraid that her boyfriend won't put up with her moodiness much longer. He tells her the muscle tension is equated with her relationship. They should explore that so she can process it and let it go.To fast track her learning, he will focus on teaching her the Shiva Lingam mudra, which restores equilibrium to the body. He doesn't have the stones on hand, so he offers to improvise with body parts. He pulls out his erect penis and enters her slippery opening with ease. He tells her to focus on the sensations. She lets him dominate her pussy for the duration of the session, like a true master!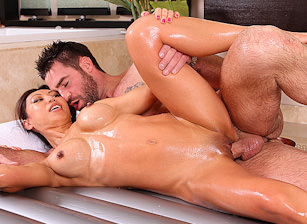 Date added:
2010-12-27
Rating:
Comments:
1
Description :
Charles meets the gorgeous Tia at the door of the Nuru Massage Parlor. He tells her that he was injured in a motorcycle accident and thinks he has torn something. Tia promises to take care of him, examines his leg, and tauntingly leads him to the shower. As she undresses and exposes her magnificent body, Charles forgets all about his pain. In the shower, Tia gently soaps him up, paying extra attention to his erect cock. Then they enter the steamy Jacuzzi and Tia pounces on his cock and sucks it passionately. When they move to the air mattress, Tia surprises him by shoving his cock into her perfect pussy and the action is intense until he shoots his load on her perfect belly.

Pictures with Charles Dera