Model Info
Videos with Cherie DeVille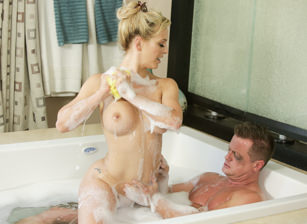 Date added:
2017-09-29
Rating:
Comments:
0
Description :
Chivalrous client Eric Masterson stepped into a fight to rescue damsel in distress Cherie DeVille and took a knuckle sandwich in the face defending the masseuse. Cherie fawns over him gratefully and tries to soothe his black eye. She wants to properly show her gratitude and offers him a massage. Having just taken a pounding for the little lady, Eric is more than happy to oblige. Cherie warmly expresses her appreciation for coming to his rescue by disrobing herself, undressing him and leading him into the spa showers. The sexy blonde slinks all over him as she soaps him up and even jerks him off.

Eric is just about ready to press his raging boner into Cherie when she takes him into the bath. She drives him mad shaking her hot ass over his dick, then revs him up with a tit fuck and a blow job. On the mat, she coats him with the NURU gel and lubes herself too. She squirms and slides all over his backside, grinding her sticky wet pussy onto him. She flips him over and lies on top of him, gyrating her hips till his cock slips deep inside her creamy pussy. She slowly swallows his rod and slams her ass on it repeatedly. He enters her sideways and works himself up till he cums in her mouth!
Categories :
Oil
,
Big Tits
,
Blonde
,
Tattoo
,
MILF
,
Shower
,
Body Massage
,
Blowjob
,
Cock Pussy Rubbing
,
Jacuzzi
,
Titty Fuck
,
Deepthroat
,
Hardcore
,
Body Sliding
,
Cock Sliding
,
Bubble Butt
,
Cock Tease
,
HD Porn
,
Big Dick
,
Cum on Pussy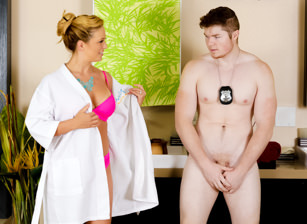 Date added:
2015-12-04
Rating:
Comments:
10
Description :
People have been complaining that the Nuru Massage is apparently conducting 'illegal activity', and it is Jake Jace's duty as a police officer to get to the bottom of this. He walks into the establishment, heads straight for the back and starts snooping in the dressers to find any incriminating evidence. His investigation is interrupted turning his face around to see his stepmother Cherie Deville in a Nuru Bathrobe. He had no idea his mother was working here and demands to know what sort of setup this is. Cherie has no issues showing her son around, proving her spa is as legitimate as it gets.

Cherie gets straight to business, removing her sons clothes for his shower time. Jake doesn't know how to feel. This is his mother after all, well, stepmother, but to him there isn't much of a difference. Cherie removes her clothes, directing him into the shower where she would bathe his naked body. The weirdness of being in a shower with his mom is too much for Jake, but Cherie insists that if he wants to know exactly what her establishment is about, he needs to pay attention and not focus so much on her being his mom. Laying down on the nuru bed, it is hard for Jake to fight against the boner he already has, with his mom rubbing her naked body up and down his back. Her boobs slipping down towards his cock doesn't help his case at all, but his sexual urge to fuck his stepmother is undeniable. Will Jake give the Nuru Massage a positive report? We think so!
Categories :
Oil
,
Big Tits
,
Blonde
,
MILF
,
Shower
,
Body Massage
,
Blowjob
,
Titty Fuck
,
Deepthroat
,
Hardcore
,
Body Sliding
,
Massage
,
Bath
,
Ass
,
HD Porn
,
Open Mouth Facial
,
Stepmom
,
Family Roleplay

Pictures with Cherie DeVille

Date added:
2017-09-29
Rating:
Comments:
0

Date added:
2015-12-04
Rating:
Comments:
0