Model Info
Videos with Alan Stafford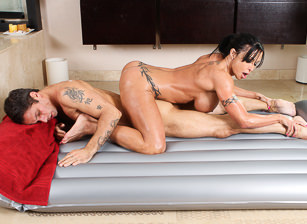 Date added:
2013-04-27
Rating:
Comments:
1
Description :
Alan Stafford's been dropping off the dry cleaning at Nuru Massage for quite some time now but never realized what kind of business they do. Jewels Jade explains the art of the Nuru massage from the special oils they use to the way they use their whole body in the process. She's got time and Alan could use a massage, so the two work out a deal. Jewels lets Alan touch her right from the beginning as she leads him into the shower for a quick rinse. She strokes his already hard cock off as she lathers it up with soap, making sure to clean his balls as well. Alan is eager for all Jewels has to offer. She continues to stroke him from behind as she both stands and kneels, preparing him for some soapy body rubbing and the Sukebe chair. Now that his cock is clean, Jewels is ready to put her warm mouth and full lips all over it. Jewels lets Alan fuck her DD tits as they are wet and soapy in the bath before retiring to the air mattress for the oily full body and blowjob massage. Jewels and Alan cum together as they 69 and Jewels takes it in her mouth and on her tongue as she swallows.
Categories :
Oil
,
Big Tits
,
Brunette
,
Tattoo
,
Body Massage
,
Blowjob
,
69
,
Titty Fuck
,
Sukebe Chair
,
Ball Sucking
,
Body Sliding
,
Massage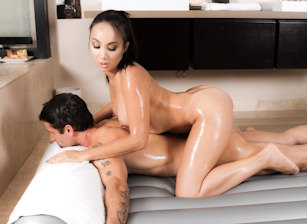 Date added:
2012-10-13
Rating:
Comments:
1
Description :
Katsuni invited Alan Stafford in for a Nuru massage. She spoke in her seductive French accent as she told him that she gives better massages than any other girl that works in the parlor. When she was undressing, Alan tried to touch her but she stopped him and said ''Don't touch me yet. I am the one to touch.'' As soon as she gave him the ok he had his hands all over her perfect body. She dropped down to her knees in the shower so she could wrap her mouth around his cock. Katsuni teased the tip of his dick with her clit until she finally let it slide inside her wet pussy. They moved on to the Nuru massage...with slippery gel all over him, she was grinding her pussy on his leg. Katsuni gave him an intense blowjob, focusing on every area of his cock, licking his balls, up and down the shaft, and taking it deep in her throat. She let him back into her pussy to ride him hard. He pounded into her from behind then he came on that patch of hair right above her clit.
Categories :
Oil
,
Kissing
,
Brunette
,
Asian
,
Tattoo
,
Shower
,
Body Massage
,
Blowjob
,
Deepthroat
,
Hardcore
,
Ball Sucking
,
Ball Licking
,
Body Sliding
,
Footjob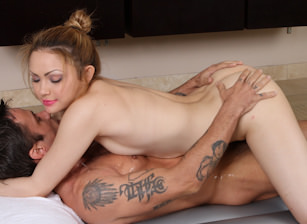 Date added:
2012-05-14
Rating:
Comments:
0
Description :
Juelz Wine invited Alan Stafford in for his Nuru massage after too much golf. She quickly undressed for him to expose her nipples that were hard and perky with excitement for what was to come. Things got intense as she rubbed her petite body around his big cock and got him extremely turned on. The shower was so steamy as she gave him all she had with her hot wet mouth. She got down on her knees to get a better angle on his hard cock. The chemistry between the two of them got more intense during the massage while she rubbed her naked body up and down his and turned him around to finish by letting him cum in her mouth.

Pictures with Alan Stafford

Date added:
2013-04-27
Rating:
Comments:
0

Date added:
2012-10-13
Rating:
Comments:
0