Model Info
Videos with Liv Revamped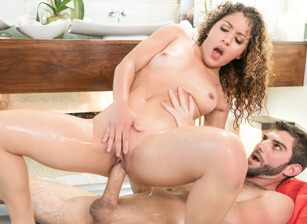 Date added:
2017-07-14
Rating:
Comments:
1
Description :
Logan Long is polishing his new car when his neighbour Liv Revamped visits him desperate for a favor. The gorgeous high school senior told a douchebag from class she would teach him how to drive stick. And now she needs Logan to teach her.

Logan's being a jerk and challenges Liv to name one thing she's done lately to help him. Liv rolls her eyes, annoyed at him for bringing up something that happened a month ago. She apologizes for leading him on that one time and lets him know she has a boyfriend now. She begs for his help, certain that her reputation will be destroyed if she doesn't have the driving skills. Logan makes it clear he's even less inclined to help her impress other people.

Liv asks him again, batting her lashes, and finally, Logan agrees, but she'll have to use his dick, because he wants her to play with his dick right now. They both get in the car. He pulls out his dick. First, he wants her to suck it. She chokes on his cock inflating it, and then Logan goes through the lesson on how to change gears.

When Logan ends the lesson, Liv points out she still hasn't actually driven the car. In exchange for a proper lesson tomorrow, she invites him to come over for a massage in her mother's home spa. At first, he says no, but Liv jacks him off while he's formulating his excuse. Too horny to argue, Logan agrees to give her a driving lesson after he hands in his paper. Then he follows her home.

When they arrive Logan wonders why there is no massage table. She explains it will be a NURU massage, which begins with a shower to wash off the toxins. Logan sits on stool and she reaches around to lather his cock. She sucks on it and reviews her lesson. Then Liv brings him into the NURU room. As she coats them both in the thick liquid she teaches him about this sensual contact massage. When she flips him over, Logan can't resist tasting her with a lick of his tongue. His cock slips right into her pussy and he fucks her till he cums in her mouth!
Categories :
Oil
,
Brunette
,
Shower
,
Body Massage
,
Blowjob
,
Cock Pussy Rubbing
,
Facial
,
Deepthroat
,
Hardcore
,
Natural Tits
,
Body Sliding
,
Massage
,
Bubble Butt
,
College
,
HD Porn
,
Big Dick
,
Petite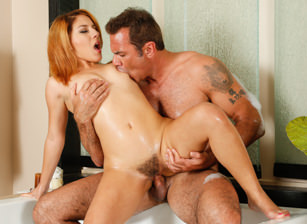 Date added:
2014-06-27
Rating:
Comments:
4
Description :
Liv's Step-dad Steven came to make sure she wasn't getting into trouble at the parlor she works for. The word on the street is that Nuru Massage is the type of place he thinks his step-daughter shouldn't be working. She gives him a chance to see what she does, after explaining she doesn't do anything she doesn't want to. He is eager for validation, and takes the invitation to try out the process. He's nervous at every turn, when she strips off naked, and then takes his clothes off and touches him in the shower, but when she takes his cock in her hand and gently caresses him he begins to find a new comfort with his step-daughter that he wasn't expecting! She inches closer to her step-dad's cock only to take him into her mouth after teasing his balls. In the bath she finally pulls out the goods, letting him feel her petite firm body, and finally stuffing her warm wet throat with his cock. But she doesn't stop there. Liv has been dreaming about the day she'd get to fuck her step-daddy, and today's the day she lets him stuff his thick cock deep inside her tight pussy, before letting go of a but full of cum all over her perfect skin!
Categories :
Oil
,
Pussy Licking
,
Close Up
,
Blonde
,
Shower
,
Body Massage
,
Handjob
,
Blowjob
,
Jacuzzi
,
Deepthroat
,
Hardcore
,
Natural Tits
,
Body Sliding
,
Massage
,
Ass
,
College
,
HD Porn
,
Big Dick
,
Petite

Pictures with Liv Revamped

Date added:
2017-07-14
Rating:
Comments:
0

Date added:
2014-12-03
Rating:
Comments:
0