Model Info
Videos with Aaron Wilcoxxx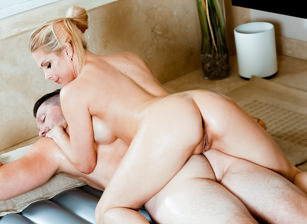 Date added:
2016-09-16
Rating:
Comments:
1
Description :
Loyal and sexy housewife, Rachel Roxxx's day is turned upside down while gathering up her husband Aaron Wilcox's clothes for the laundry. As she picks up his sweaty gym shorts, a business card falls out of his pocket. Rachel grabs it and suddenly her face drops. She decides to call this NURU MASSAGE spa and see what her husband has been up too. When she gets through to the receptionist, she's told he actually has an appointment scheduled today! With that information Rachel decides to head over there and surprise her cheating husband. As she enters the spa, she's mistaken for the 'new masseuse' and before she knows it, she's sitting face to face with her first client who just happens to be her husband's brother, Steven. It seems as though Steven has been using Aaron's membership, which confuses Rachel even more. She knows she came to the spa for a reason so when Steven suggests she give him the massage, she doesn't know what to say. When he tells her, it could be a revenge massage for all the time Aaron's come to the spa, she agrees and leads him into the shower. The wetter their bodies get, the more willing Rachel becomes, as she strokes his hard cock with her hand. They move to the bath and Rachel rubs her nipple pierced tits up and down Steven's chest while taking his dick in her mouth. The final step is the massage itself, where things get really slippery. As she slides her body up and down with him inside her wet pussy, she realizes whether it's the Nuru gel or the fact that she's riding her husband's brother, the taste of revenge never felt so.. slippery sweet.
Categories :
Oil
,
Kissing
,
Big Tits
,
Blonde
,
Tattoo
,
Blowjob
,
Cum in Mouth
,
Jacuzzi
,
Deepthroat
,
Hardcore
,
Body Sliding
,
Massage
,
Colored Hair
,
HD Porn
,
Big Dick
,
Reality
,
Family Roleplay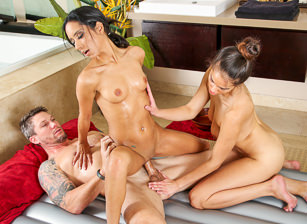 Date added:
2014-05-30
Rating:
Comments:
6
Description :
Aaron Wilcoxxx came in to the Nuru spa with some serious problems. As Tia Cyrus put it, he's all backed up, and hasn't come for long enough that there was a doctor involved! Tia makes sure she can do the job by asking her colleague to join them. Leilani has a tall slender body and together these stunning babes disrobe their desperate client and proceed to give him the cure to his ailment. They use the sukebe chair to double team his tender cock. While Leilani massages his torso and give him something to grab onto, Tia makes sure his swollen cock isn't lonely by introducing it to the back of her warm throat. Leilani feeds Aaron her sweet natural tits and her tasty pussy. Once things get slippery, there's no chance that he's leaving here today without a permanent fix for his condition.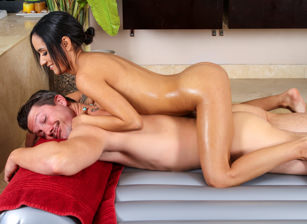 Date added:
2014-01-25
Rating:
Comments:
3
Description :
Aaron came in with his tail between his legs begging for help. It's been months since he's been able to cum, and finally he's found the experts! Tia is well equipped to service Aaron in every way he needs. Her expert advice is to get the milking session and this lends well to her plan to get Aaron off. While Tia may be petite, she is prepared take this milking session wherever it will take them. Things heat up right away. Tia can't keep her warm mouth off Aaron's cock long enough for him to lose focus, and that is precisely what this gentleman came in for. How far will Tia need to go to get Aaron to finally bust a wad? Take a look.
Categories :
Kissing
,
Brunette
,
Skinny
,
Tattoo
,
Shower
,
Body Massage
,
Handjob
,
Blowjob
,
Jacuzzi
,
Cock Milking
,
Hardcore
,
Fingering
,
Natural Tits
,
Latina
,
Body Sliding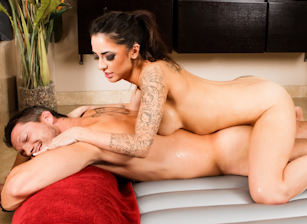 Date added:
2013-08-24
Rating:
Comments:
2
Description :
Alexa Gets Fucked Hard','Alexa wants her clients cock and gets it hard and deep','Aaron Wilcox is an out of towner but his local friends suggest he hit up NuRu massage for the special treatment. As hottie Alexa Aimes undresses to show off her on point body, Aaron realizes this is unlike any other massage he has ever received. Alexa quickly gets to work stroking his cock as she kisses him and leads him to the shower. She is clearly as into him as he is into her, making this a hot and sensual scene with amazingly erotic sex. Alexa sucks his cock hard with her mouth and tongue, using her hands to rub his shaft and balls. Alexa can't keep her hands off Aaron's cock as she leads him to the tub to rinse off. She shoves his dick so far down her throat that her nose bounces off his belly as she goes in deep. When she's ready, she angles her wet pussy up so that he can fuck her tight twat as she encourages him to go harder. After a nice taste, Alexa leads Aaron over to her massage bed so that she can rub her oiled and heavily tattooed body all over him. This serves as foreplay to sucking and fucking him until he blows his load all over her shaved twat
Categories :
Oil
,
Kissing
,
Big Tits
,
Brunette
,
Skinny
,
Tattoo
,
Shower
,
Body Massage
,
Blowjob
,
Jacuzzi
,
Deepthroat
,
Hardcore
,
Ball Sucking
,
Body Sliding
,
Massage

Pictures with Aaron Wilcoxxx