Model Info
Videos with Alix Lynx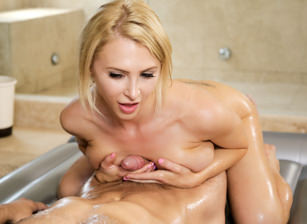 Date added:
2017-09-22
Rating:
Comments:
1
Description :
Codey Steele drops in to see neighborhood spa owner Alix Lynx to sign her up for the local barter network. He explains the benefits of trading products but isn't sure her business is a good fit because she offers spa services like massage. Alix offers to give him a specialty NURU massage to prove its value.

She leads him to the bathroom and takes off both their clothes. Staring at her bare pussy and huge tits, Codey needs some reassurance that Alix isn't trying to garner favors. She insists what she's doing is perfectly professional. She lathers him up in the shower and tugs on his penis making it grow extra hard. Codey is starting to see the value of her services. In the tub, Alix spreads her legs and lets Codey give her pussy a tongue bath.

He follows her onto the NURU mat and lies face down as she covers him in NURU gel. She lubes herself and slides over her tight figure over his oiled-up body. Then she has him turn around and jacks his dick. She massages his front side with her whole body and then fucks his cock. She cums hard as Codey rams her wet hole. He pulls out and spills his seed all over her tummy!
Categories :
Pussy Licking
,
Big Tits
,
Blonde
,
Tattoo
,
Shower
,
Body Massage
,
Blowjob
,
Deepthroat
,
Hardcore
,
Body Sliding
,
Massage
,
Bath
,
Ass
,
Cunilingus
,
HD Porn
,
Big Dick
,
Nuru Gel
,
Petite
,
Pornstar
,
Cum on Pussy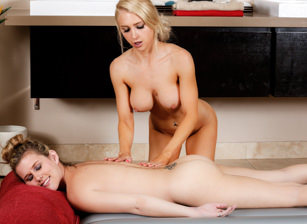 Date added:
2016-08-03
Rating:
Comments:
5
Description :
Blonde babes, Sasha Heart and Alix Lynx wait patiently for their next client. As the time passes, they realize, he isn't coming and therefore, they're not going to be getting paid today.. As they start talking, they realize that perhaps it would be a good idea to practice some new techniques on each other in case they ever do get female clients. As the male ones seem to be a disappointment, especially today. Sasha is a little skeptical at first, as she thinks back to her strict, religious upbringing. However, Alix persuades her, even remarking that it'll loosen her up, having spent all her free days at the gym. With that, Sasha agrees to the massage; Alix slowly disrobes Sasha, then ditches her own, and they head for the shower.

While in the shower, Sasha remarks on how soft Alix's hands feel on her wet, naked body. Feeling her nipples getting hard, as Alix continues to touch her skin. Alix finds herself getting turned on while she massages Sasha, taking her long, lean legs and tight ass. Before they know it, they're sharing soft, wet kisses as their bodies grind together in the hot, steamy shower.

Once in the tube, Sasha plays coy as Alix continues to open her up to the massage. Alix's efforts are well received as she begins licking Sasha's pussy. As they move into the final part of the massage, Sasha is beyond relaxed, and very eager to please Alix with these new techniques. After this massage both Alix and Sasha are ready for whoever walks through their door and if a client doesn't show up, well, they've always got each other...

Pictures with Alix Lynx

Date added:
2017-09-22
Rating:
Comments:
0

Date added:
2016-08-03
Rating:
Comments:
1