Model Info
Videos with Ashley Adams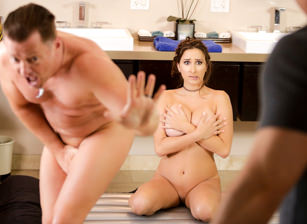 Date added:
2017-08-02
Rating:
Comments:
2
Description :
Stepfather John Strong's wife asks him to check up on her daughter Ashley Adams at the spa. Ashley is supposedly the receptionist but John walks in on her fucking a customer during a massage. The customer runs out of the room as soon as she yells 'daddy!' Her stepfather is furious with the revelation that Ashley is working as a masseuse, and disgusted by the cum dripping down her leg. Instead of explaining, she offers him a massage, so that he can see firsthand that what she does isn't bad.

Against his better judgment, he lets the girl he raised undress him and jerk him off in the shower. She coats him in NURU gel and slides her huge tits all over him, proving that she's all grown up. John's cock is rock solid when she flips him over and sucks him off. He slips into her pussy effortlessly and fucks her aggressively, ramming her deeply till she cums. Then he mounts her and fucks her till he cums on her tits!
Categories :
Kissing
,
Big Tits
,
Brunette
,
Shower
,
Body Massage
,
Blowjob
,
Deepthroat
,
Hardcore
,
Cum On Tits
,
Body Sliding
,
Massage
,
Ass
,
Creampie
,
HD Porn
,
Nuru Gel
,
Pornstar
,
Family Roleplay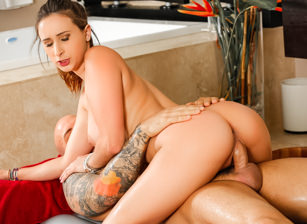 Date added:
2015-07-31
Rating:
Comments:
10
Description :
Derrick Pierce was in a hurry, needing a quick fix on his back at the Nuru Massage. Walking into the spa, he didn't realize that the masseuse who greeted him him was his wife's best friend, Ashley Adams. Ashley refused to treat him today considering this was her husbands best friend, but Derrick didn't think anything of it, saying he came here all the time and this was her job. Ashley finally agreed but made it clear that she wouldn't touch or handle him in any sexual way. Entering the shower, Ashley rubs Derrick thoroughly over his front and backside. Feeling the sexual frustration, Ashley resists her temptation of kissing Derrick, knowing this would be the downfall of her friendship with his wife. But her desire and Derrick's persuasion takes over her mind and body, filling her pussy with his big cock inside of her. Will Derrick's wife find out about her husband's adultery, or will this be Ashley and Derrick's little secret? Find out today!
Categories :
Kissing
,
Pussy Licking
,
Big Tits
,
Brunette
,
Shower
,
Body Massage
,
Handjob
,
Blowjob
,
69
,
Jacuzzi
,
Deepthroat
,
Hardcore
,
Cum On Tits
,
Ball Licking
,
Body Sliding
,
Massage
,
Cunilingus
,
HD Porn
,
Nuru Gel
,
Shaved

Pictures with Ashley Adams

Date added:
2017-08-02
Rating:
Comments:
1

Date added:
2015-07-31
Rating:
Comments:
0