Model Info
Videos with Alex Legend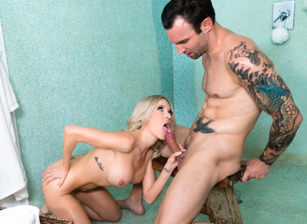 Date added:
2017-11-17
Rating:
Comments:
0
Description :
Alex comes into Nuru Massage in dire need of help after getting kneed in the privates by his angry girlfriend. Apparently, using her savings to buy himself a dirt bike was a big no-no. Blake Morgan knows just what he needs and invites him to step into the shower. Alex is feeling a little shy when Blake Morgan invites him to undress, she wastes no time in shedding her own clothes making him feel more at ease. As he removes his pants Blake is surprised at his raging hard-on, which he says he's had ever since the swift groin kick incident, he's in definite need of a release treatment. She slowly starts with phase one, a warm shower. Slowly working her way to his erection, stroking his very big cock and getting him ready for phase two, the blowjob. She expertly works him over with her mouth, barely hiding her satisfaction at having him come in while she was on shift. Being a consummate professional, however, she sets aside her desire for his cock and moves on to the NURU gel. Alex is agreeably surprised at the sensation of having Blake's hard body and big therapeutic tits sliding over him in this manner. It makes him crave that release even more. She flips him over and shoves his now throbbing penis deep down her throat and massaging it with her gel coated hands, getting it very wet and ready for a little extra. She straddles his cock and very slowly, very sensuously, introduces it into her wanting pussy. Blake can't help herself from moaning a little and exclaiming at how big his cock is. After some adept riding, Alex takes over and starts thrusting his cock as hard as he can, trying to reach maximum penetration. The deeper the better, if he wants a good therapeutic release. When Blake takes control back, she rides him to the point where he's about ready to burst before hopping off and making ejaculate with a vigorous handjob. At the sight of all that cum and after all her hard work, she treats herself to a little taste!
Categories :
Oil
,
Big Tits
,
Blonde
,
Tattoo
,
MILF
,
Shower
,
Body Massage
,
Handjob
,
Blowjob
,
Deepthroat
,
Masturbation
,
Ball Licking
,
Body Sliding
,
Massage
,
HD Porn
,
Big Dick
,
Nuru Gel
,
Shaved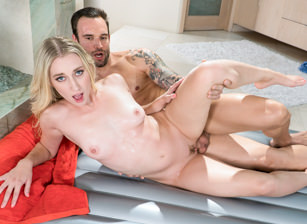 Date added:
2017-11-08
Rating:
Comments:
1
Description :
Soon to be Step-Siblings Riley Reyes and Alex Legend receive phone calls from their parents inviting both for supper. Both Alex and Riley have never met until Alex visits Riley at the Nuru Massage for a rub me down. Alex knows the routine and they both undress and head towards the shower. Alex explains why he's stressed out in meeting his new sister and mother-in law. Riley remarks that she's coincidentally in the same scenario. Riley rubs Alex's athletic chest with soap and warm water, then slowly leads her hand towards his enormous cock. Riley goes on her knees and sucks his colossal cock with her succulent lips until Alex is ready for his Nuru Massage. She pours nuru gel over his naked body and her perky boobs and reassures him not to stress over meeting his new sister. She glides her body over his back, has him turn around and jerks him off with both hands. Riley fills her mouth with his cock then asks permission to fill her pussy. She rides his huge cock, moaning and panting with pleasure. Alex finishes her off by pounding her tight pussy vigorously and pops his hot load over her pink pussy lips still oblivious that he just fucked his sister!
Categories :
Oil
,
Blonde
,
Shower
,
Body Massage
,
Blowjob
,
Deepthroat
,
Hardcore
,
Natural Tits
,
Body Sliding
,
Massage
,
Bubble Butt
,
College
,
HD Porn
,
Big Dick
,
Cum on Pussy
,
Family Roleplay
,
Step Sister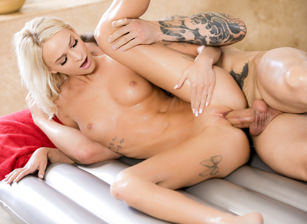 Date added:
2017-08-18
Rating:
Comments:
0
Description :
When Alex Legend drops off an order of NURU gel to the spa, masseuse Emma Hix questions the quantity of the order. She insists she only meant to order one bottle, not six. But Alex can't do anything about it, even though Emma knows she'll get in trouble with her boss. She wonders if he can help her use up some of the extra product. Unfortunately, Alex has a few more deliveries to do and apologizes that he can't help her. Emma asks again this time holding her robe open. Suddenly Alex decides he can spare some time.

Emma undresses completely then gets him ready for his shower. She washes him off in the stall while his cock stands at attention. His erection persists throughout the bath where she pampers him with a steamy blowjob. Then she guides him to the mat and uses a double dollop of NURU gel for the contact message.

She covers herself in the translucent lotion and gyrates her waifish form over his ass. He flips over and fondles her breasts while she slides up and down his lap. She blows him then swallows his dick with her pussy and cums hard fucking his cock. Then he fucks her from behind and cums on her face!
Categories :
Blonde
,
Skinny
,
Tattoo
,
Shower
,
Body Massage
,
Blowjob
,
Facial
,
Hardcore
,
Masturbation
,
Natural Tits
,
Body Sliding
,
Teen
,
Massage
,
Bath
,
Ass
,
HD Porn
,
Big Dick
,
Nuru Gel
,
Petite

Pictures with Alex Legend

Date added:
2017-11-17
Rating:
Comments:
0

Date added:
2017-11-08
Rating:
Comments:
0

Date added:
2017-08-18
Rating:
Comments:
0