Model Info
Videos with Jasmine Jae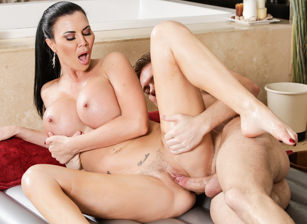 Date added:
2017-04-14
Rating:
Comments:
2
Description :
Ryan Ryder feels weird about getting massaged by Jasmine Jae, his buddy Eric Masterson's girlfriend. But Eric says it's fine, it's her job. Ryan continues to meddle, insisting it's weird because he gets the impression she likes him. Eric is sure it's all in his head. He keeps tabs on his girl and there's no way in hell she is cheating.

When Eric brags that he steps out on her, Jasmine is listening at the door, and boy is she pissed! Eric leaves to meet one of his hook ups, so Jae plays into Ryan's suspicions. The sexy Brit admits she has the hots for him and offers to upgrade his massage on the house.

She takes off her robe and blows his mind with the size of her knockers. His cock's already hard when his pants come down and she strokes him all the way into the showers. After he soaps up her tight body, she cups his heavy balls and blows him with her fuck me lips, thoroughly impressed with the size of his dick.

She gives him a moment to relax on the mat while she covers him in the NURU gel. It drips down her fingers in thick viscous threads. Then she grinds her naked pussy onto his backside.

She turns him over and gives him a view of her glistening pussy, followed by a slippery tit fuck. She rides his cock before he enters her sideways for an extra tight fit. He eats her ass then fucks her from her behind, pulling out to cum all over her massive tits! But he's still balls deep in betraying a friend who deserves it!
Categories :
Oil
,
Big Tits
,
Tattoo
,
MILF
,
Shower
,
Body Massage
,
Blowjob
,
Titty Fuck
,
Deepthroat
,
Hardcore
,
Body Sliding
,
Rimming
,
Massage
,
Bubble Butt
,
HD Porn
,
Big Dick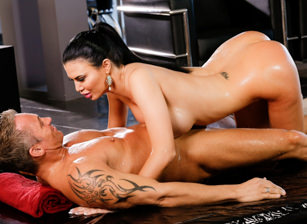 Date added:
2016-04-29
Rating:
Comments:
2
Description :
Jasmine Jae is meeting her client Marcus London today. Marcus is a regular client who needs a good pampering from time to time, and Jasmine is always eager to meet up with him. She immediately starts her strip tease, and lap dance. Marcus just sits back and enjoys the show. After all her underwear is peeled off, Marcus stands to let Jasmine help him out of his clothes. She gently releases his cock from it's fabric cage, and slides it in her mouth. Jasmine takes Marcus to her Nuru mattress, and starts to slide the oil all over their bodies. Marcus's pampering is well underway, when Jasmine climbs on to slide her soft skin over his slippery body massaging his tension out with all her body parts. Pampering him to the maximum level she writhes her wet pussy against his back. When he turns over, she uses her big tits to stroke his cock before taking particular care of his sensitive balls with her warm, wet mouth. She slides her pussy against his mouth allowing him to finger and lick her simultaneously in 69 while she moans around his slick stiff cock. Jasmine pushes her pussy back against his tongue until she's just about to cum before changing her position to let him fuck her pussy while she moans in ecstasy. Marcus' pampering massage has certainly made them both much much happier
Categories :
Pussy Licking
,
Big Tits
,
Brunette
,
Tattoo
,
Blowjob
,
69
,
Deepthroat
,
Hardcore
,
Cum On Tits
,
Fingering
,
Ball Licking
,
Body Sliding
,
Massage
,
Ass
,
Cunilingus
,
HD Porn
,
Nuru Gel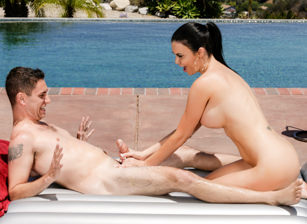 Date added:
2015-11-06
Rating:
Comments:
5
Description :
Today at the Nuru Massage, Jasmine Jae receives her regular client, Ryan Rider but has a very special day set up for him. She invites him outside where she prepared his treatment with a wonderful and relaxing view of LA's skyline. Jasmine removes her bathrobe, exposing her massive boobs which Ryan is eager to touch. Lying down on the massage bed, Jasmine smothers Ryan's back with Nuru gel, gliding her hands and chest up and down his bare back, captivated by her skills. Having Ryan turn around, she focuses her lips on his, embracing one another in passion. Ryan waits with anticipation for his full release massage, craving Jasmines lips on his cock. Jasmine's hands glide over his hard cock as she promises to get rid of all his stress with her epic blowjobs and inner vaginal massage. Unfortunately, Jasmine didn't expect her stepson, Brad Knight to show up at her house today. All came to a halt when Brad walks in, and catches her mom having sex with a stranger. Ryan runs off afraid he is in deep trouble, but this didn't bother Jasmine all to much, she sees this as an opportunity to carry through her all time fantasy; to fuck her stepson.
Categories :
Big Tits
,
Brunette
,
Tattoo
,
Body Massage
,
Handjob
,
Blowjob
,
Deepthroat
,
Hardcore
,
Body Sliding
,
Massage
,
Ass
,
HD Porn
,
Nuru Gel
,
Outdoor
,
Cum on Pussy
,
Stepmom
,
Family Roleplay

Pictures with Jasmine Jae

Date added:
2017-04-14
Rating:
Comments:
0

Date added:
2016-04-29
Rating:
Comments:
1

Date added:
2015-11-06
Rating:
Comments:
0