Model Info
Videos with Silvia Saige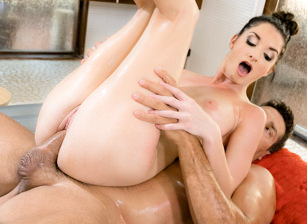 Date added:
2017-10-13
Rating:
Comments:
0
Description :
The moment client Ramon Nomar meets his sexy brunette masseuse Silvia Saige, he's convinced that he knows her from somewhere. She's not hit with the same blast of recognition and chalks it up to having a familiar face. But once his brain finishes making the connection, he remembers walking in on her while she was in the middle of riding some guy. He still wants to get to the bottom of this mystery.

She brings him into the massage room and begins to undress. He helps her remove her bra and remarks on its expensive quality. She tells him she can afford it and she only works three days a week. In the shower, he asks if she is a model, in case that would account for her familiar face. She denies being a model and keeps soaping him up and rinsing him off. She really cleans his cock with both hands.

In the bathtub, he finally reveals where he saw her. It was at Eric's party. She was having sex with his friend. He remembers her eyes. She tells him he's mistaken and asks him to please drop it. Then she swallows his cock to help take his mind off it. Then she brings him to the NURU mat. She drizzles the thick viscous gel all over him. She coats herself too, then straddles his ass and glides her sticky pussy along his body. Then Ramon turns over onto his back. She leans back and gives him a footjob, then Silvia sits on his dick and fucks him till she she cums. He sideloads her pussy and pulls out just in time to cover her tummy in cum!
Categories :
Kissing
,
Big Tits
,
Brunette
,
Ass Rubbing
,
Tattoo
,
Shower
,
Body Massage
,
Blowjob
,
Deepthroat
,
Hardcore
,
Masturbation
,
Body Sliding
,
Footjob
,
Massage
,
Ass
,
HD Porn
,
Big Dick
,
Nuru Gel
,
Petite
,
Cum on Pussy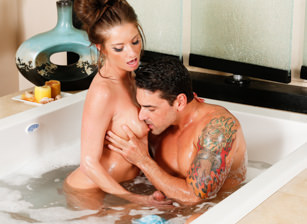 Date added:
2016-04-27
Rating:
Comments:
1
Description :
Ryan Driller calls Nuru with a very specific request: To have their most mature masseuse role play as his mother. Silvia Saige doesn't see an issue with that but didn't realize how serious Ryan is until he walks in the door. Ryan is in full character surprising Sylvia with his little boy tantrums making a fit about how she promised him a mommy-massage for being a good son. Sylvia helps Ryan undress and shows him her huge boobs that he remembers so well from when he was young. She shows Ryan to the shower, cleaning off his chest, back and massive erect cock, that is hers for the taking. She fills her mouth with his cock and balls, licking his shaft passionately as Ryan moans with immense excitement. Before Ryan can bust his load all over his mom, she leads him to the Nuru Massage for his special rubdown. She lathers his body with oil and rubs herself all over his backside as she proceeds to straddle his chest easing her way to feel her son's cock inside of her. Ryan pushes his manhood inside her hard and quickly, pleasing his mother's pussy, loosening her up for an ultimate orgasm and a colossal load of cum over Mommy's pretty face!

Pictures with Silvia Saige

Date added:
2017-10-13
Rating:
Comments:
0

Date added:
2016-04-27
Rating:
Comments:
0