Model Info
Videos with Chanel Preston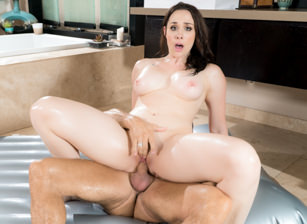 Date added:
2017-10-20
Rating:
Comments:
0
Description :
Marcus London just got out of a relationship with Chanel Preston and his mother reminds him to get back his DVD box set on the history of ancient Rome. She reads his text and goes to look in her dresser. She's in the middle of moving and sees it's not where she expected. She promises that she'll look for them. He lets her know he's no longer dating the girl he broke up with her for. A couple of weeks go by and she still can't find it. He keeps calling and eventually tells her off for avoiding his calls. He subtly lets her know he will wield his power as an attorney if necessary. Afraid of his retaliation, she invites him over to help her look.

Fresh out the shower, she welcomes him inside and offers to show him her messy closet where they can search for the box set together. Marcus notices the air mattress propped against the wall and asks if someone's staying over. When she explains it's her new massage bed, he asks for a massage to soothe his sore neck. He's even willing to drop the fruitless search for the box set. She leads him into a bath for a nice soak and Marcus remains on his best behavior hoping for some nookie with his ex. She leads him onto the mat, cloaks him in NURU gel and gives him a pampering followed by a ride! He fucks her lubricated pussy till he pops his load all over her mouth!
Categories :
Big Tits
,
Brunette
,
Tattoo
,
Body Massage
,
Handjob
,
Blowjob
,
Deepthroat
,
Hardcore
,
Masturbation
,
Body Sliding
,
Massage
,
Bath
,
Ass
,
HD Porn
,
Nuru Gel
,
Pornstar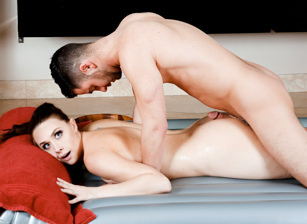 Date added:
2016-12-16
Rating:
Comments:
4
Description :
When advertiser Chanel Preston tries to sell advertising at Seth Gamble's NURU massage spa, she's not upfront about admitting she's never heard of NURU massage. When she comes clean about lying, Seth explains that her inexperience makes him question her ability to promote a business she doesn't understand. The only way around it is to come for a massage. She's not comfortable with getting a massage but wants the account. She would be willing to book an appointment some other time, but Seth insists they take care of it right now. She's desperate for his business but she can't help feeling uncomfortable, especially when he takes off his clothes, and then strips her naked too. Seth relieves her worries, insisting it's nothing sexual. But when he brings her into the shower, Chanel doesn't know how to react to his hands washing her body. She's feeling the heat from Seth's growing cock. Seth focuses on giving Chanel the bath part of the NURU experience. She sits between his legs in the bathtub while he massages her breasts. His erection digs into her back but she mistakes it for his thumb. He moves her onto the massage mattress and oils her body with NURU gel. Seth has a hard time concealing his erection for this part of the massage. But when she calls him out on his enjoyment, he abruptly ends the massage. At this point Chanel gets pissed. She tells him what he's going to do to her holes, and that he's giving her the account. Seth can't argue with that. She gets to sucking like she promised. Then she climbs on top of Seth and sticks his dick deep inside her pussy. She fucks him like she's been giving NURU massages all her life. He lies down sideways and inserts his cock into her ass. He fucks her asshole and rubs her hairy wet pussy till she cums crying in pleasure. The Chanel eats the ass off his dick, and fucks the cum out of his cock with her pussy!
Categories :
Big Tits
,
Tattoo
,
MILF
,
Shower
,
Blowjob
,
Hardcore
,
Cock Ass Rub
,
Anal
,
Massage
,
Ass
,
HD Porn
,
Member Fantasy
,
Reality
,
Cum on Pussy

Pictures with Chanel Preston

Date added:
2017-10-20
Rating:
Comments:
0

Date added:
2016-12-16
Rating:
Comments:
0