Model Info
Videos with Logan Long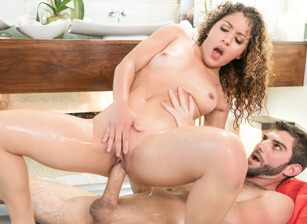 Date added:
2017-07-14
Rating:
Comments:
1
Description :
Logan Long is polishing his new car when his neighbour Liv Revamped visits him desperate for a favor. The gorgeous high school senior told a douchebag from class she would teach him how to drive stick. And now she needs Logan to teach her.

Logan's being a jerk and challenges Liv to name one thing she's done lately to help him. Liv rolls her eyes, annoyed at him for bringing up something that happened a month ago. She apologizes for leading him on that one time and lets him know she has a boyfriend now. She begs for his help, certain that her reputation will be destroyed if she doesn't have the driving skills. Logan makes it clear he's even less inclined to help her impress other people.

Liv asks him again, batting her lashes, and finally, Logan agrees, but she'll have to use his dick, because he wants her to play with his dick right now. They both get in the car. He pulls out his dick. First, he wants her to suck it. She chokes on his cock inflating it, and then Logan goes through the lesson on how to change gears.

When Logan ends the lesson, Liv points out she still hasn't actually driven the car. In exchange for a proper lesson tomorrow, she invites him to come over for a massage in her mother's home spa. At first, he says no, but Liv jacks him off while he's formulating his excuse. Too horny to argue, Logan agrees to give her a driving lesson after he hands in his paper. Then he follows her home.

When they arrive Logan wonders why there is no massage table. She explains it will be a NURU massage, which begins with a shower to wash off the toxins. Logan sits on stool and she reaches around to lather his cock. She sucks on it and reviews her lesson. Then Liv brings him into the NURU room. As she coats them both in the thick liquid she teaches him about this sensual contact massage. When she flips him over, Logan can't resist tasting her with a lick of his tongue. His cock slips right into her pussy and he fucks her till he cums in her mouth!
Categories :
Oil
,
Brunette
,
Shower
,
Body Massage
,
Blowjob
,
Cock Pussy Rubbing
,
Facial
,
Deepthroat
,
Hardcore
,
Natural Tits
,
Body Sliding
,
Massage
,
Bubble Butt
,
College
,
HD Porn
,
Big Dick
,
Petite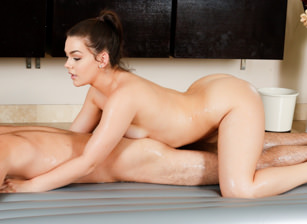 Date added:
2017-01-04
Rating:
Comments:
5
Description :
Logan Long is married to the cousin of masseuse Kimber Woods. Kimber is miffed that Logan booked a Wednesday appointment, claiming he forgot that's when she's alone at the spa. This puts her in an awkward position. However, she agrees to take him as a client if the treatment stays G-rated. She keeps it bubbly and light when she undresses him as a matter of company policy. But when his underwear come off, she can't help commenting on Logan Long's big schlong. Logan invites Kimber to feel it, reminding her that he and his wife are swingers. But Kimber respects her cousin's no family rule and walks him into the shower. Logan can't get over how hot she looks naked. As Kimber lathers him up and notices his burgeoning erection, she can barely resist jacking him off. Kimber Woods rebukes herself and directs him onto the mat for their NURU massage. She scoops up a handful of NURU gel and rubs it all over his back and legs. She bathes herself in the gel then lies on top him and slides up and down erotically. She gets lost in her work of relaxing him but the nakedness of her pussy only makes his erection more persistent. This becomes very evident when she turns him over. She's concerned about the tension he is storing in his dick. When she suggests a hand job, Logan agrees it wouldn't be so bad. She does her best to keep the proceedings professional but the handjob quickly escalates to a blow job. Cousin Kimber bobs her head on his cock and deepthroats him with lots of suction. That makes it difficult to slide up and down without letting him slip inside of her pussy. She jiggles her gel covered ass around Logan's pole and cums hard from the friction. The kissing cousins switch positions and engage in faster more slippery thrusting. Kimber splays her legs wide open while Logan fucks her deeply till he drops his seed on her hairy muff!
Categories :
Brunette
,
Body Massage
,
Blowjob
,
Deepthroat
,
Natural Tits
,
Massage
,
Ass
,
HD Porn
,
Big Dick
,
Nuru Gel
,
Cum on Pussy
,
Family Roleplay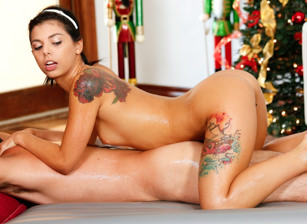 Date added:
2016-12-23
Rating:
Comments:
2
Description :
Logan Long wakes up Christmas morning in bed with sexy girlfriend Gina Valentina. She suspects that Santa came early this year, and Logan follows her into the living room to inspect. Something is waiting in there. It's an air mattress, and Gia wants to use it to give him a full contact NURU Gel massage! It's clear that Logan's excited, judging by the footlong sprouting from his torso. The tiny tattooed brunette pulls off her pajama bra and panties, while Logan lies down on the mat. She pulls her hair back so it's out of the way of the gel she's lubing him up with. Once she's covered herself in the translucent goo, she straddles Logan on the mat and begins to slide her naked body up and down, making friction with his swollen slippery cock. Beholding the little gumdrop nipples on her titties, Logan can't get over how beautiful she looks with his cock all the way in her mouth. Slow and steady she takes all of his big dick in her pussy. She thrusts her weight to fuck him harder. And with the assistance of the sticky wet gel, her movements effectively bring her to a shuddering orgasm. He flips her over and pummels her from on top, but her juicy quim is so tight, it sucks him like a vacuum till he creampies, cumming hard inside her chimney chute, spilling his love juice until her cup runneth over.
Categories :
Oil
,
Brunette
,
Tattoo
,
Body Massage
,
Blowjob
,
Deepthroat
,
Natural Tits
,
Latina
,
Body Sliding
,
Massage
,
Hairy
,
HD Porn
,
Member Fantasy
,
Nuru Gel
,
Petite

Pictures with Logan Long

Date added:
2017-07-14
Rating:
Comments:
0

Date added:
2017-01-04
Rating:
Comments:
0

Date added:
2016-12-23
Rating:
Comments:
0