Model Info
Videos with Marco Ducati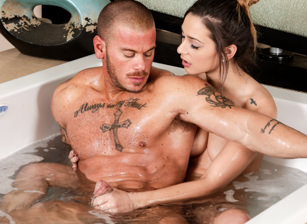 Date added:
2017-04-21
Rating:
Comments:
0
Description :
When Marco Ducati develops anxiety from taking steroids, he samples the spa beside the gym for a stress relieving massage. His big worry is that his dick will shrink from the steroids. His sexy masseuse Jaye Summers has treated many of her bodybuilder clients with that problem. She recommends he gets off juice and begins treatment with her right away. He follows her into the massage room.

She peels off her little white robe and brushes up against his body. She takes off her pink bra and panties displayed her perfect form. She leads into the shower where she soaps him up and jerks his cock before a hot soak in the tub. After rubbing his shoulders, she sits in the bath and exercises his love muscle with a blow job.

She brings him to the mat to lie down on his stomach. She coats his backside in NURU gel and slides her lithe body on top of him, pressing her pussy into his ass till his cock nearly punctures the air mattress.

She gels up his frontside and sucks on his big cock. Then she straddles his waist and lowers her glistening pussy onto his dick. She fucks his throbbing knob and twerks her ass till she cums. He lays her on her side and fucks her from behind, building toward his big finish. When she begs for his cum he unloads it onto her pussy. Think Marco will come back for a follow-up?! Click to find out!
Categories :
Brunette
,
Tattoo
,
Shower
,
Body Massage
,
Blowjob
,
Deepthroat
,
Hardcore
,
Natural Tits
,
Latina
,
Massage
,
Bath
,
Ass
,
HD Porn
,
Big Dick
,
Nuru Gel
,
Petite
,
Cum on Pussy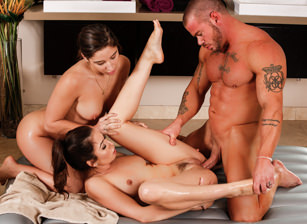 Date added:
2017-01-27
Rating:
Comments:
2
Description :
When slender NURU masseuse Melissa Moore greets her next client Marco Ducati, she's not expecting him to show up with his hot wife Abella Danger. But Abella tells Melissa that she loves watching her husband with other women and she's so excited for this NURU experience they're about to share. Right before the shower, the girls help Marco out of his clothes, revealing his huge, long cock that is already extremely erect. The waif masseuse disrobes, showing off her perfect petite body, and guides Marco under the running water. She starts rubbing his knob with soap, while Abella takes off her panties and fingers her pussy, putting on a show for both her husband and the masseuse. When they move to the bath, Marco keeps his attention trained on Melissa's novel body, and takes a stroking from his wife as she feeds his cock into Melissa's warm mouth. She continues to suck him off while Abella sits on the edge of the bath getting her tits felt up by her pampered man. Marco enjoys the view of Abella playing with her hairy pussy while his dick is deep throated by the masseuse. Melissa guides Marco onto the mat and applies a scoop of NURU gel all over his back, while Abella is perched on the counter rubbing her own wet pussy and watching them. When Melissa lies on top of Marco, Abella helps Melissa get covered in the viscous liquid. She rubs Melissa's pussy making sure she's sopping wet, and almost makes her cum. Abella rubs the gel over herself and joins Melissa in sliding on her husband. The girls make out with each other, then Abella asks Melissa to suck Marco's dick while she strokes his shaft. Marco fingers Abella's pussy frantically, fighting the urge to blow his load. After Abella gets a taste of Melissa's spit on Marco's cock, Melissa rides Marco's dick, thrilling Abella with the visual of penetration, and of Melissa's natural bouncing tits. Marco pummels her pussy deeply till Melissa cums vocally on his cock. The blissed out girls switch positions and Melissa feeds Marco's cock into Abella's throbbing pussy. Excited by the naked waif behind her, Abella bounces on Marco's lubed up shaft and instantly cums hard. Then Melissa lies on Abella's lap and spreads her legs invitingly. Marco fucks the masseuse deeply and repeatedly till she cums again, and then he busts a nut on her face. Think they'll be back for Moore? Click to find out!
Categories :
Kissing
,
Brunette
,
Tattoo
,
Shower
,
Body Massage
,
Handjob
,
Blowjob
,
Cum in Mouth
,
Jacuzzi
,
Deepthroat
,
Threesome
,
Masturbation
,
Fingering
,
Natural Tits
,
Massage
,
Ball Play
,
Bubble Butt
,
HD Porn
,
Big Dick
,
Nuru Gel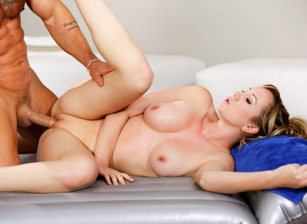 Date added:
2017-01-20
Rating:
Comments:
2
Description :
When Brett Rossi's car breaks down, AAAA lets her know her membership is expired. But luckily, the gorgeous blonde isn't stranded for long. She attracts the help of motorist Marco Ducati who offers to give her battery a boost. Brett's already cleared her schedule so she can deal with her car. She wants to do something to thank him properly for extending a hand. Brett just started a career giving meditative massage and invites him for a treatment at her house. At first Marco rejects the hot blonde's offer because he felt she came off as abrasive. But Brett insists on making it right. When she heads back to her car wagging her tush behind her,Marco follows her all the way home. Brett shows him her NURU massage set up. She leaves him by the mattress to get undressed. After she comes back out naked and undresses Marco, she applies the NURU gel all over them both. Then she boards him and begins the full contact massage, making sure he can feel her pussy. She slides down to his erect cock and sucks his hardon while he pants heavily, trying not to blow his load. She climbs onto his cock and she moans in appreciation of the way he fills her up. She bounces her tight ass and grinds her pussy on him till she cums. Marco sideloads her wet pussy picking up speed. Then he gets on top of her putting his back into it, turning red in the face, and swollen in the head. The tension in his dick intensifies with every thrust, and Marco pounds the lady till his ballsack releases his sticky cumload all over her tits.
Categories :
Big Tits
,
Blonde
,
Body Massage
,
Blowjob
,
Titty Fuck
,
Deepthroat
,
Hardcore
,
Cum On Tits
,
Body Sliding
,
Massage
,
HD Porn
,
Nuru Gel

Pictures with Marco Ducati

Date added:
2017-04-21
Rating:
Comments:
0

Date added:
2017-01-27
Rating:
Comments:
0

Date added:
2017-01-20
Rating:
Comments:
0