Model Info
Videos with Angela White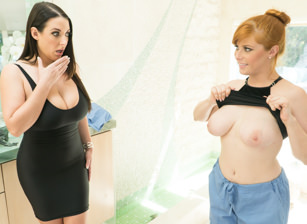 Date added:
2017-11-22
Rating:
Comments:
3
Description :
To congratulate Angela White on her business success, her colleagues book a full package at the Nuru Massage with redhead Penny Pax. Angela watches Penny undress as she preps to cater to Angela's every beck and call. They head in the shower in their birthday suits as Penny rinses Angela's body and lathers her massive boobs. Angela hesitates in proceeding with the Nuru Massage but decides being open minded will do her some good. Penny pours gel over Angela's sleek body and ass then over her own huge boobs for skin to skin contact. Penny is aroused at the sight of her clients massive boobs and feels they should take this lesbian massage to another level. Penny bites Angela's ripe nipples and has her lesbian lover spread her legs wide open to devour that tight, shaved pussy. Angela orgasms in euphoric exaltation, eager to have her mouth suckle upon Penny's naturally, big boobs and takes her first whirl at eating pussy. Penny moans in lesbian delight, jumps on top of Angela and they begin tribbing passionately, spoiling one another in sensual and desirable positions!
Categories :
Oil
,
Pussy Licking
,
Big Tits
,
Brunette
,
Ass Rubbing
,
Tribbing
,
Body Massage
,
Lesbians
,
Fingering
,
Natural Tits
,
Body Sliding
,
Rimming
,
Massage
,
Ass Massage
,
Bubble Butt
,
HD Porn
,
Redhead
,
Shaved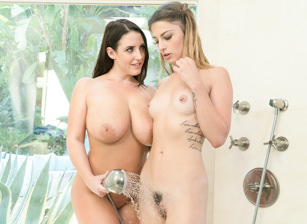 Date added:
2017-10-25
Rating:
Comments:
3
Description :
Fresh-faced masseuse Kristen Scott has joined the ranks of a huge multi-level marketing company that sells essential oils. Her district manager Angela White stops by the spa to drop off new samples and review her weekly sales. She examines the spreadsheet and praises her growing sales figures. The masseuse beams with pride as she really strives to impress her boss.

The district manager notices her customers are all repeat buyers. She asks her to snag at least two new customers before the quarterly meeting. Then the district manager sees that her NURU gel sales are slumping. She is alarmed that the gel isn't selling as well here, whereas it's a hot ticket item everywhere else. She mentions bringing in the successful new rep Amber to train her on the NURU gel. She thinks she could help her improve her product knowledge with the NURU gel. Worried she is being replaced, Kristen states that she is fully committed to making it work. Angela wants to know how she's going to prove that to her. She asks the district manager to teach her how to use the NURU gel. She offers to give her a massage. Angela isn't opposed to that idea. She suggests that they start with a shower.

She is impressed that Kristen is so eager to keep her job. The masseuse helps the district manager relax with a sensual shower followed by a full body massage with slippery NURU gel as the medium. Angela swaps places with Kristen to demonstrate her expert skills. Kristen is indeed overwhelmed by the stunning sensory experience. That leads to some inadvertent tribbing, followed by lots of deliberate pussy licking and deep finger penetration till both ladies cum!
Categories :
Oil
,
Pussy Licking
,
Big Tits
,
FaceSitting
,
Brunette
,
Tattoo
,
Tribbing
,
Shower
,
Body Massage
,
Lesbians
,
Fingering
,
Natural Tits
,
Body Sliding
,
Rimming
,
Massage
,
Bubble Butt
,
Cunilingus
,
HD Porn

Pictures with Angela White

Date added:
2017-11-22
Rating:
Comments:
1

Date added:
2017-10-25
Rating:
Comments:
0