Model Info
Videos with Jaye Summers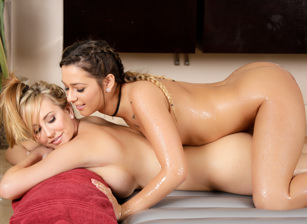 Date added:
2017-06-23
Rating:
Comments:
2
Description :
Fashionista client Brett Rossi comes to the spa for a gel manicure thinking NURU Gel is a trendy new nail treatment. Masseuse Jaye Summers explains it's a type of massage. Brett is a tad disappointed but when Jaye says it's a hit with celebrities, the client really wants to try, so she can be the envy of all the cool people.

Brett follows Jaye to the massage room. She giggles when the masseuse tries to undress her but plays along. Jaye soaps her up in the shower and it's turning Brett on. After they kiss, she caresses her boobs, then guides Brett into the bath. Brett sits on the edge of the tub, Jaye spreads her client's legs and licks her sweet pussy. After the warm up, they move to the mat.

Jaye spreads a handful of gel onto Brett's back, then sits on her ass as she lubes up herself. Jaye drapes her body on top of Brett massaging with her bodyweight, till it's time for Brett to turn over. The slippery masseuse slides all over Brett, licking her nipples before lowering down between her legs.

Brett can't believe what she's doing. She's never been with a girl before. Jaye licks her pussy till she cums in her mouth. Brett does so well at reciprocating that Jaye doubts it's her first time. Jaye wraps herself around Brett's leg and the lesbians cum hard tribbing each other's pussies.
Categories :
Oil
,
Kissing
,
Big Tits
,
Blonde
,
Brunette
,
Ass Rubbing
,
Tribbing
,
Shower
,
Body Massage
,
Jacuzzi
,
Lesbians
,
Fingering
,
Natural Tits
,
Body Sliding
,
Teen
,
Massage
,
Ass Massage
,
Cunilingus
,
HD Porn
,
Nuru Gel
,
Petite
,
Shaved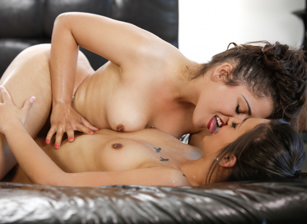 Date added:
2017-04-26
Rating:
Comments:
4
Description :
Ziggy Star catches her roommate Jaye Summers in the shower and hangs around to watch with a mischievous gleam in her eye. Jaye smiles and keeps on washing her sexy body. When Jaye passes by her bedroom wrapped in a towel Ziggy asks for help. She recently started a massage business and needs to practice on someone, just like they did as bunkmates at camp.

When Jaye asks why she's naked, Ziggy explains the massage medium is a gel that won't work with clothes. With a little prodding, Ziggy convinces Jaye to get onto the mattress-protected bed and lie down on her tummy. Ziggy straddles her bum and dollops a handful of NURU gel onto her back. She spreads it around till her body glistens all over. Then she coats her own tits and tummy with the sticky goo. With her legs spread and her pussy pressing against her ass, Ziggy glides along the length of Jaye's backside warming up her muscles.

Ziggy instructs her test subject to flip over and slathers more gel on her boobs. She resumes her gliding, arousing Jaye's pussy with her NURU technique. Jaye is especially stimulated when Ziggy massages her pussy with her tongue. She licks it all over and sucks on her clit until she makes her cum. Jaye wants to taste Ziggy so she buries her face in her bush. She flicks her pierced tongue on her clit till she orgasms in her mouth. After the lesbians 69, they take turns tribbing pussies till they both reach nirvana again!
Categories :
Kissing
,
Pussy Licking
,
Brunette
,
Skinny
,
Tattoo
,
Tribbing
,
Shower
,
Lesbians
,
Fingering
,
Body Sliding
,
Massage
,
Ass Massage
,
Bubble Butt
,
Cunilingus
,
HD Porn
,
Nuru Gel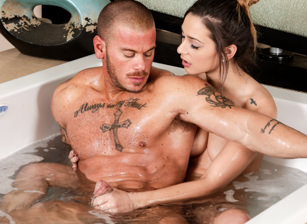 Date added:
2017-04-21
Rating:
Comments:
0
Description :
When Marco Ducati develops anxiety from taking steroids, he samples the spa beside the gym for a stress relieving massage. His big worry is that his dick will shrink from the steroids. His sexy masseuse Jaye Summers has treated many of her bodybuilder clients with that problem. She recommends he gets off juice and begins treatment with her right away. He follows her into the massage room.

She peels off her little white robe and brushes up against his body. She takes off her pink bra and panties displayed her perfect form. She leads into the shower where she soaps him up and jerks his cock before a hot soak in the tub. After rubbing his shoulders, she sits in the bath and exercises his love muscle with a blow job.

She brings him to the mat to lie down on his stomach. She coats his backside in NURU gel and slides her lithe body on top of him, pressing her pussy into his ass till his cock nearly punctures the air mattress.

She gels up his frontside and sucks on his big cock. Then she straddles his waist and lowers her glistening pussy onto his dick. She fucks his throbbing knob and twerks her ass till she cums. He lays her on her side and fucks her from behind, building toward his big finish. When she begs for his cum he unloads it onto her pussy. Think Marco will come back for a follow-up?! Click to find out!
Categories :
Brunette
,
Tattoo
,
Shower
,
Body Massage
,
Blowjob
,
Deepthroat
,
Hardcore
,
Natural Tits
,
Latina
,
Massage
,
Bath
,
Ass
,
HD Porn
,
Big Dick
,
Nuru Gel
,
Petite
,
Cum on Pussy

Pictures with Jaye Summers

Date added:
2017-06-23
Rating:
Comments:
0

Date added:
2017-04-26
Rating:
Comments:
0

Date added:
2017-04-21
Rating:
Comments:
0