Model Info
Videos with Avi Love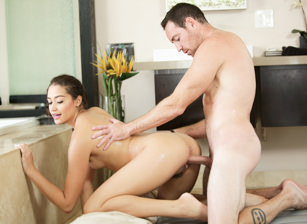 Date added:
2017-11-03
Rating:
Comments:
1
Description :
Avi Love is sick of all the bad luck shes been having dating women so she tries her luck for love through online dating. After one date with a pervert, she decides to try Nuru Massage with Romeo Price. She makes it clear to him that her intentions are to get fucked today, no matter what. They take off their clothes and hop into the shower where Romeo gently massages Avi's perky boobs and bushy pussy. In the warm bath, Avi insists on getting fucked and with Romeo's big cock already stiff, he glides his rod inside of her tight pussy. After a few pumps, Avi thinks more foreplay is necessary so Romeo leads her to the Nuru bed to heighten her sexual appetite. Romeo pours the nuru gel over Avi's flawless body and gently glides his hands over her boobs and pussy making her moan with sexual excitement. Romeo kisses her softly and asks her if she's ready to have her pussy filled. He spreads her legs apart and enters her tight pussy slowly until she begs for more of his cock in different positions, making Romeo pop over her hairy bush.
Categories :
Oil
,
Kissing
,
Brunette
,
Ass Rubbing
,
Body Massage
,
Jacuzzi
,
Deepthroat
,
Fingering
,
Natural Tits
,
Ball Licking
,
Body Sliding
,
Teen
,
Massage
,
Ass Massage
,
Bath
,
Ass
,
College
,
HD Porn
,
Big Dick
,
Nuru Gel
,
Cum on Pussy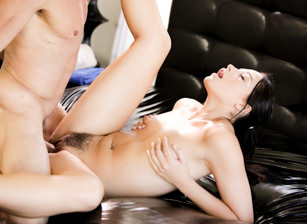 Date added:
2017-06-21
Rating:
Comments:
0
Description :
On a weekend getaway at the family vacation home, stepfather Tommy Gunn shows his teen stepdaughter Avi Love around for her first visit. Tommy doesn't come up much since her mom left. Avi is happy to have her step daddy all to herself. She thinks her mom is such a bitch.

When they get to the bedroom, Avi asks Tommy about the black plastic cover on the bed. Tommy explains her mother used to massage him. Avi offers Tommy a massage, but Tommy shrugs it off saying it wouldn't be right, the massages were naked. Avi points out they don't have to get totally naked. Tommy can't argue with that. They undress except their underwear. Tommy guides her through what to do with the NURU gel, and how to straddle, lean forward and rub with her body.

Tommy can tell she removed her bra. But when Avi says she's always wanted to do this, Daddy Tommy allows the teen her fun. She turns him over and takes off her panties then rubs him with her trim bush. After a seductive blow job, Avi glides her pussy onto his huge dick and sinks down on it. Tommy fucks her sideways and makes her cum. Then he rams her pussy in missionary until Avi begs him to cum on her bush!
Categories :
Kissing
,
Brunette
,
Body Massage
,
Blowjob
,
Cock Pussy Rubbing
,
Natural Tits
,
Massage
,
Hairy
,
Nuru Gel
,
Petite
,
Cum on Pussy
,
Stepdad
,
Family Roleplay

Pictures with Avi Love

Date added:
2017-11-03
Rating:
Comments:
0

Date added:
2017-06-21
Rating:
Comments:
0